Small but BIG on Performance
The most advanced technology for producing endothermic gas in a cost-effective,
small-volume, and sustainable manner.
LEARN MORE
SUSTAINABLE PRODUCTION OF ENDOTHERMIC GAS AT A LOW COST

Typically used for annealing and carburizing, the EndoFlex™ S combines technological advancements in process and design to deliver on-demand metered endogas mixture of the highest quality to heat treating operations. This adds up to big savings from increased heating efficiency and lower operation and maintenance costs.


REACTIONCORE™ TECHNOLOGY
The breakthrough fail-safe technology replaces a single large retort with three smaller retorts for high availability and minimum heating energy.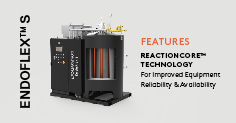 ENDOINJECTOR™

CONTROL SYSTEM
This integral precision gas mixing and control system consistently provides the ideal gas mixture for the highest quality of endothermic gas.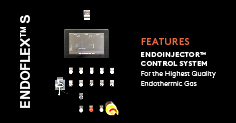 OPTIMAL CHAMBER DESIGN
The round chamber design ensures a more uniform temperature and heat distribution, improving heat performance and efficiency while minimizing heat loss.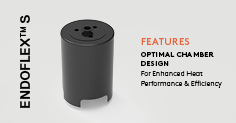 4 REASONS TO CHOOSE THE ENDOFLEX™ S?


1. EASE OF MAINTENANCE

Easy access to maintenance can eliminate weeks of downtime.
2. SAFETY


Automatic burn-off capability and other safety enhancements ensure continuous process safety and reliability.
3. HIGH EFFICIENCY

A rich set of built-in hardware and software maximize system efficiency and equipment uptime.
4. GREEN & SUSTAINABLE


Available in natural gas or propane, the flexible design facilitates a future switchover.
Our goal is to deliver an endothermic generating


system

with a long lifecycle that minimizes the
environmental impact

through smarter usage.
No waste of production or resources.



SPECIFICATION

Heating

Gas or electric

Retort technology Cooling

ReactionCore™

Cooling

Air

Maximum endogas capacity

EndoFlex™ S:

50m

3

/h (1,760 CFH)
EndoFlex™ L: 300m3/h (10,500 CFH)

Chamber design

EndoFlex™ S:

Multi-chamber with classic retort change


EndoFlex™ L:

Multi-chamber with easy side door access for retort change

Gas source

Natural gas or propane